Lawyers are famous for not doing any case free. Turns out their software behaves the same. Excluding a pair of standout options (detailed below), it is not easy find a free and open source legal document management software on internet. However, there are some free tools that, while not full-featured practice management systems, are nonetheless helpful in their own right.
Legal document management software for law firms can save attorneys a good amount of time on creating documents and filling out forms, timekeeping and billing, and managing contacts, calendaring, and correspondence. However, it does not matter whether you are just starting up or just not sure about a law firm document management software that is worth spending money on, you do not want to shell out lots of money in the beginning.
Top 4 Legal Document Management Software
MyCase is a unique and smart web-based system created exclusively for lawyers. The main purpose of developing this software is to help facilitate better communication and understanding between attorneys and their clients. It is a great choice for small sized law firms having a main purpose of consolidated solution to their client communication, accounting, and scheduling needs. Users can conveniently work from anywhere with an Internet connection because of its multiplatform compatibility. It offers applications like case management, contact management, time tracking, accounting, and docketing. Users can easily synchronize their calendars to maximize collaboration with clients and coworkers.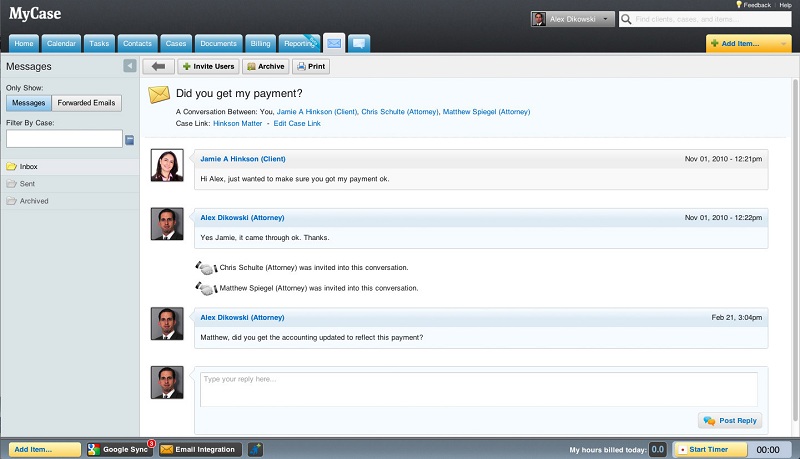 MyCase offers many unique and advantageous features, but one of its unique feature is its one-click QuickBooks integration. This process eliminates human error and ensuring consistency across the board by synchronizing the company's data into QuickBooks immediately. The only thing that bother novice users is its complex interface.
---
CosmoLex Software is a cloud-based software that offers advanced features along with fully integrated applications for an all-in-one solution. Its main features include trust (IOLTA) accounting, time tracking, calendaring, billing, task and document management in the software suite. Firms are able to focus their information in one location, improving efficiency and productivity in the day-to-day because CosmoLex is a comprehensive system. There is no need to enter information into multiple systems or clean up errors due to double entry since everything is connected. The document management in CosmoLex are easy to locate as it organizes digital records and files. It currently integrates with only Dropbox.
Since it is a web-based software, CosmoLex can be accessed from a browser on any Internet-connected device. One thing that should be kept in mind while using this software is that it is created mainly for lawyers, and not accountants. Therefore, if you are an accountant working in a law firm, you will probably not like this.
---
Prevail developers claim their software a fully relational, comprehensive database that incorporates all of the tools and features users need by taking care of entire practice and multiple cases. Prevail is a highly considerable choice for legal institutions of any size in many different segments - including personal injury, corporate law, immigration, and estate planning, among others. Their welcoming support team is available for help every step of the way – from the basic user training to on-going implementation process. Its extensive document management, time tracking, case management, docketing, and billing applications are all offered within a robust suite.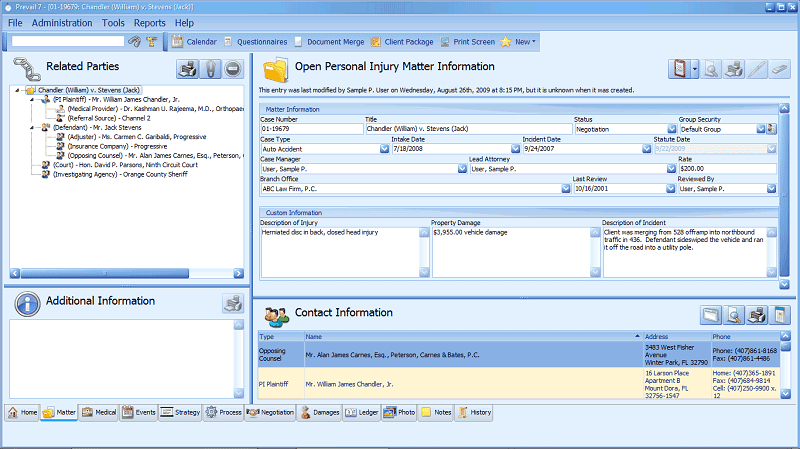 Prevail has many catching features, but has an interesting fact that its integrated calendar syncs with MS Outlook so users have their Prevail calendar on mobile devices synced with Outlook.
---
Designed for mid-size and large legal practices, ProLaw helps to streamline key parts of the law firm management process. This smart software automates the expense management process and time tracking, improving billing accuracy and minimizing manual time tracking. The system also features a smartphone solution that allows attorneys to track hours spent on a case from any place.
ProLaw also offers an invoicing application that allows users to print and manage custom, professional-looking invoices. The case management module helps attorneys include a calendar view and maintain organization, reminders, and actions to take within a dashboard. This also allows users to store documents like PDFs, Excel spreadsheets, Word documents, and more. ProLaw can also integrate with Outlook for ease of users.
---