Imagine a scenario in which you can reduce clutter in your office, reduce your daily dose of stress, save time, save money, increase privacy and improve your general mood from OK to happy? That does sound great doesn't it? Well, all of that are just few steps away, and all you need to do is go paperless with Evernote, a software for paperless offices that is becoming one of the most popular.
In the end, the biggest benefit of Evernote paperless office is "peace of mind", and you cannot put a price tag on that. Once you transform your office from copy print paper to paperless, everything is in the place it needs to be, and you've closed open loops in your live. That being said, let's explain what is paperless Evernote, and how you can get it.
The Most Complete Introduction of Evernote
Helping organizations gain control over their DMS is what LogicalDoc does best. You can access the software via any web browser. And that is one of the main differences between LogicalDoc and any other open source document management software. Unlike others cloud-based systems, LogicalDoc is accessed through your own network. You can use the software to create, and coordinate any number of documents and increase collaboration and productivity of your team.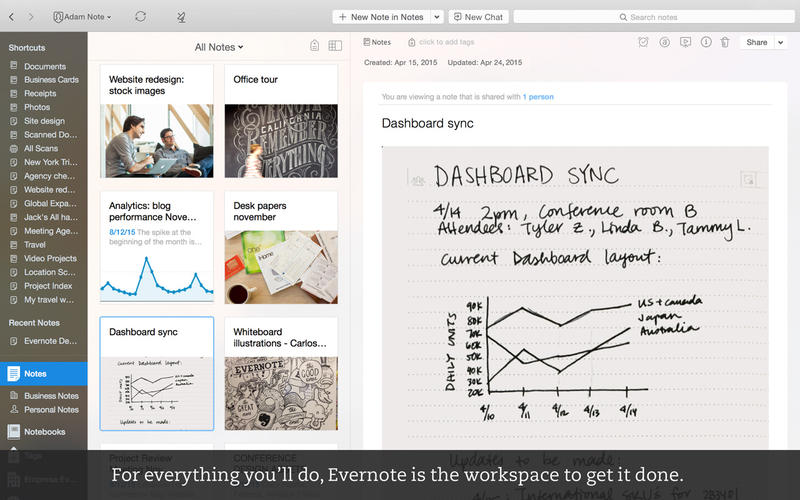 Simply put, "Evernote is where your work takes shape". Or, in other words, where you go from inspiration to achievement. Now, the description is "cross-platform, application designed for note taking, organizing, and archiving".
Evernote allows users to create a note, which can be a webpage, a webpage excerpt, formatted text, photograph, handwritten note, or even a voice memo. There is no limit to what you can organize and archive.
Supporting various operating systems like iOS, OS X, Chrome OS, Windows, Windows Phone, Android and much more, Evernote paperless is truly a cross-platform application.
---
The Relationship between Evernote and Paperless Office
Right now, we are discussing going paperless with Evernote for your company, business. With that in mind, let's take a look what your business can get thanks to Evernote.
Evernote & Paperless Office: Individuals of your company can write literally everything in Evernote, and they can collect files, images and everything they research on the web in Evernote. And to top it off, everything is synced across phones and computers. As a result, you have a more streamlined workplace, where teams and colleagues can collaborate in a single workplace. Imagine your entire office, all data, documents and everything in between stored in one computer. This way, the teams work together, and they can exchange ideas, share feedback and much more, all in one application. And of course, there are the administrators that get central user administration and enhanced security thanks to the TSL/SSL certificates.
Cost of Evernote: The application is available in both free and paid version. You can start by trying the free version, just so you can see how it works. But the basic, free version allows only 60MB of uploads per month. This version is great for home individuals, but not for businesses. Businesses can choose between the Plus and Premium version. The former is designed for small businesses, as you get 1GB of uploads per month, and sync across all devices. The price is 29.99e per year, while the Premium allows 10GB of uploads per month and costs 59.99e per year.
---
Steps for Going Paperless with Evernote
We are now getting at the most important part of the going paperless with Evernote process. And that is step by step guide, how to transform your office from cluttered, to clean, tidy and stress free.
Step 1: Buy a Scanner
Let's start with the premise that there are many great scanners out there. But if you like to reap the full benefits of paperless office, you should consider a Fujitsu model. After all, they are the gold standard in paperless office. You can find several Fujitsu Scan snap models, and all depends on your price range. But no matter which one you choose, you can be sure you've hit the jackpot.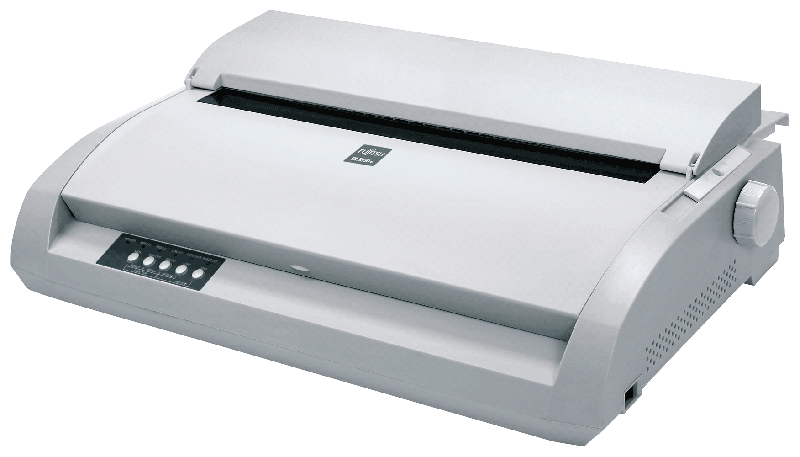 ---
Step 2: Sign up for Evernote
This step is obvious, and as we mentioned earlier, there are couple of plans to consider. If you are a small business, the Evernote Plus is more than enough. But for large companies, Evernote Premium is the recommended business plan.
One of the first benefits you'll see by using Evernote is that files and folders are now archived and indexed under a simple system of tagging. This saves you time when you save files, and then later when you need to search for them, as you can find any document in a matter of seconds.
Think of Evernote as your digital filling cabinet, or your second brain. And the more you use Evernote, the more you like it. Every day is a new experience, and every day you'll find new and amazing features that Evernote has. And all of those features are designed with one goal in mind: to make your life easier and simpler, and of course, stress-free.
The best part is Evernote is actually partner with Fujitsu. Well, the best work with the best. The integration makes work flawlessly. Whenever you scan a document, you can get it directly to Evernote. Set up this option, and every time you plug the scanner, the documents end up in your Evernote inbox. Magic, isn't it?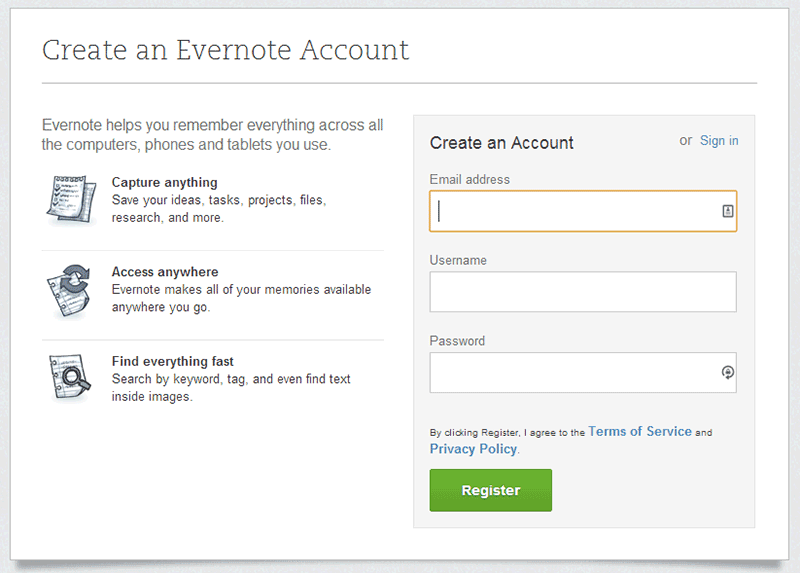 ---
Step 3: Get Familiar with the Basic Work of Evernote
This is how things work in Evernote paperless. Once you scan a document, it goes into your inbox. And the question you have is should you put in financial, legal, taxes, or some other notebook. And the best part is you don't have to decide where to put any document.
It all comes down to tags. You can place as many tags as you like for a single document. For example, let's say you are scanning a financial report for August 2016. You can use tags like: financial report, August 2016, invoices August 2016, taxes August 2016, and many more you can think of.
The next important step is to move a document from Inbox to any File Document. But that step follows tagging. Your goal is to have zero documents in Inbox. You should think of the Inbox as just a temporary spot for documents until you place some tags.
And if you think you need to name your documents specifically, don't worry. Naming doesn't matter, since tags and flawless OCR technology make searching for documents easy-peasy. Optical character recognition search feature allows you to search not just tags and titles, but the body of your document as well. But if you truly need to edit the documents, you should choose a professional tool with OCR feature.
This is what you can put in Evernote: scanned paper, excel files, word files, pictures, voice memos, PDF files, webpages, and everything else. Once the notes are in Evernote, you can access them from the Evernote application for your respected operating system.
---
Step 4: Read Evernote Paperless at Office and Home
Now, let me just say that with your daily use, you will get a handle of most of Evernote features. But if you really want to make your life easier and simpler, spend some time reading the Paperless Essentials. This will give you a deep look into some of the tricks and tips how to get the most out of your new software.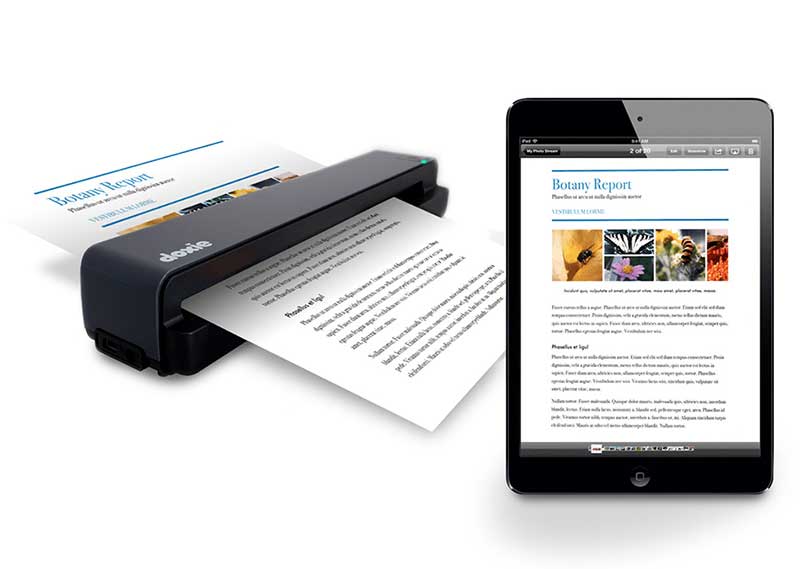 ---
Step 5: Start Scanning
Well, now that you have a scanner, a great software, and you know how to use it, it is time to get all those boxes with documents and start scanning them. Yes, it will take some time, as you will need to scan every document and then tag them, but in the end, it is well worth the time. If you organize yourself, and include others in the process, you can get your Evernote paperless office in a matter of days.
---
Best Tool to Manage PDF Document for Paperless Office
When we talked about integration, we mentioned Evernote and Fujitsu have tight integration that helps Evernote work flawlessly. Well, if you remember, we said that the best work only with the best. And everyone needs help from a friend sometimes. For a truly paperless office, you need a PDF software that will help you edit all the scanned documents with OCR feature. The OCR feature can turn every document, image or anything in between into a readable and editable PDF document.
This is where PDFelement for Business comes into play. Designed especially for businesses, but also for home owners, PDFelement allows users to create PDF documents from scratch, convert Microsoft Office documents into PDF documents, merge PDF documents, and edit scanned documents. Those are just some of the basic features of the software.
You can also increase the security of your documents with encryption, and sign PDF documents from the convenience of your phone. Imagine how much time you save when you receive a document on your email, you sign it, and you forward it for later usage? And of course, there is the possibility of sharing PDF documents between colleagues, which makes life in Evernote paperless office that much simpler.