Looking for the best enterprise document management software for your business that can handle all of your workload and can provide smart solutions to your problems at single platform? If you're looking for information to help you choose the one that's right for you, chose one from our enterprise document management software reviews below to overcome your needs.
Top 5 Enterprise Document Management Software
An Enterprise document management software that can easily have all important documents archived in an organized, secure version controlled environment. It displays electronic document workflow by creating order and rules for routing documents through their lifecycle, involving their creation, review, and approval. The working environment is flexible, while keeping the organized environment. Users can also add comments and make modification to documents and finally can authorize the data to make sure documents are easily approved. It also features an easy-to-use calendar feature. The calendar can alert you about important tasks and events.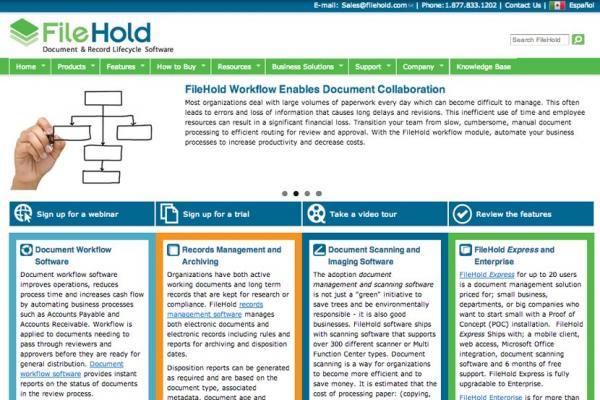 FileHold's scanning feature lets you scan your important documents and convert them to textual form that is easily searchable. It can be deployed on user's hardware or virtual server using Microsoft SQL and Windows Server technologies. It can also be installed on any private or public cloud and is available on monthly paid bases.
We suggest FileHold to small businesses - particularly those with 50 or more employees.
---
WebMerge is a unique enterprise document management system that allows its users to quickly merge data from the cloud into custom Word documents, PowerPoint presentations, Excel spreadsheets, or PDFs. It's a web-based system, and can operate on both Windows and Mac OSX platforms. It is also a beneficial solution for businesses of medium size in a wide range of industries, including education, accounting, real estate, and healthcare.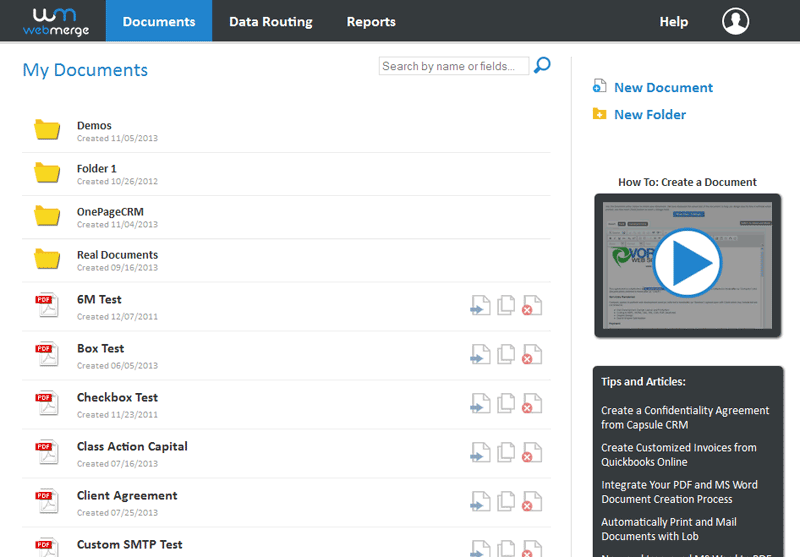 WebMerge offers user a robust set of features that includes applications for contract management, case management and records management. It saves your businesses' valuable time and resources by these great features, coupled with its simple implementation, while also streamlining any data-driven processes within your business. WebMerge allows documents to be generated from virtually any system in the cloud as it's built on an open API. Using data transfer technology, companies can integrate. WebMerge with their CRMs, internal systems, and more. WebMerge also integrates with many popular cloud-based services like DropBox or Google Drive to quickly and easily deliver documents to the cloud via e-signature, email, and more. Companies can essentially automate the entire document generation workflow with this flexibility.
WebMerge currently serves thousands of customers generating millions of custom documents per year. The interesting thing about this software is it's pretty affordable; they offer scalable pricing based on document merges, making it an option for a single user all the way up to enterprise-level organizations.
---
Word-Tech's DocMinder is a hosted on cloud as well as on premise enterprise document management program that automates work related to your documents and searching using clients' existing drives, SharePoint or file share system with their email systems. Efficient indexing with real time oversight from calendars along with reporting and dashboards are all available from a PC or smartphone.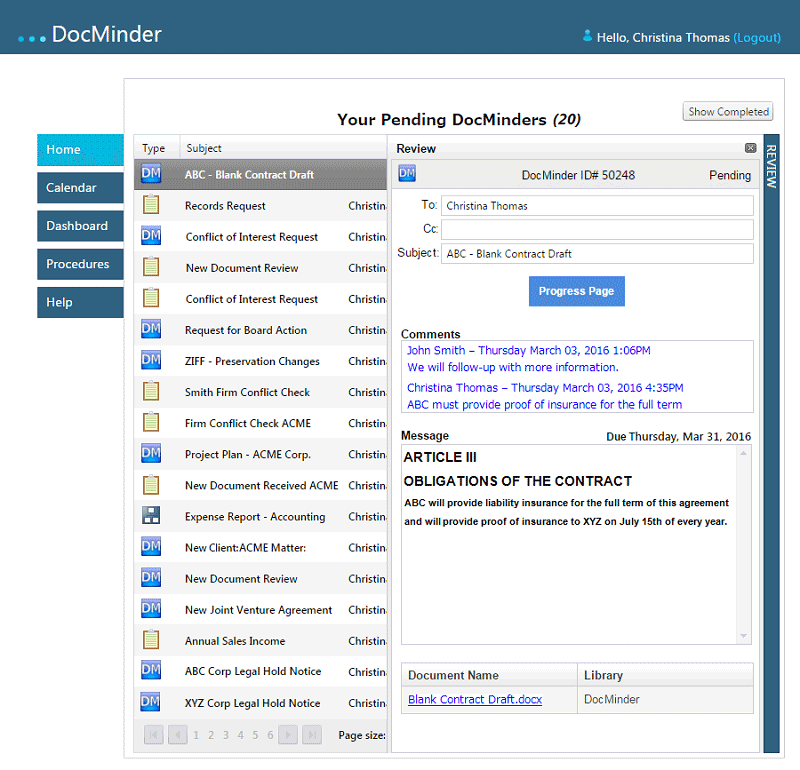 DocMinder alerts users of tasks through an email follow-up until closure with escalations. Tasks can be transferred to someone else If someone leaves the organization or goes on an extended leave; procedures can be created when needed with the solution's visual workflow; real-time reports are exportable in CSV, PDF, Excel, or HTML formats. Users can see who is doing what in DocMinder as its reporting system and calendar is centralized. Small businesses can make use of DocMinder too. Its features make small business document management a breeze.
---
Designed to work for all sizes of businesses, PDFelement for Business is an enterprise document management software designed to bring together all the required and necessary tools that are PDF related. With it, you are able to view documents, create new, edit existing ones, convert them to other formats and even sign those documents using valid signatures.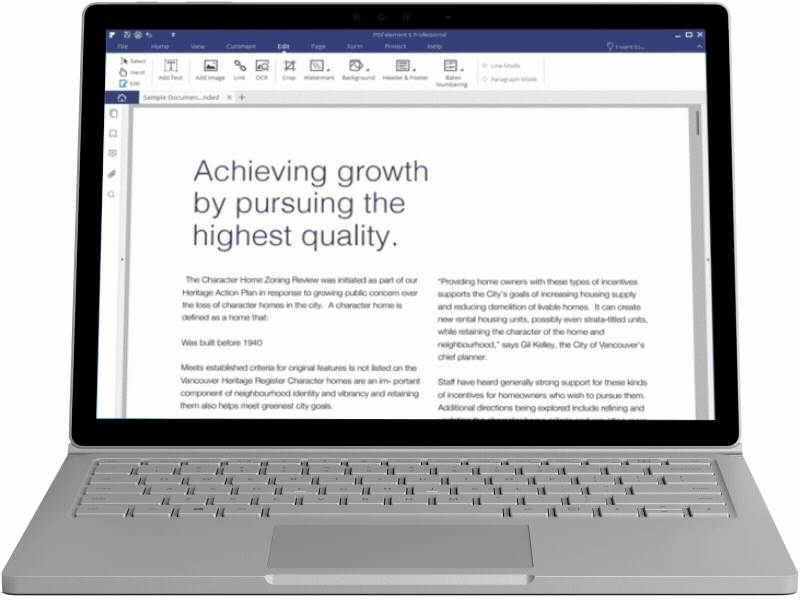 It provides a more than comprehensive interface. At its core, you have a large clear preview section, a précised top panel that should be familiar to you in no time and a side toolbar that lets you view the bookmarks, annotations, thumbnails, and search for content.
This enterprise document managing software enables you to open any PDF document and by following a few simple steps you can add text or access the OCR tool. You can extract specific pages and even combine PDF documents and even open and work with multiple files at the same time. It makes it possible to convert the original to GIF, XLS, DOC, JPG, PPT, BMP, PNG, TIFF, ePub, HTML and RTF formats as far as exporting the document content is concerned. This reason makes the application an ideal choice when it comes to transferring crucial data that might be needed by different third party applications.
---
Document Locator is an enterprise document management software that is integrated into Microsoft Windows. It works directly inside of Windows Explorer to appear like a shared folder with document management features embedded within as the platform is integrated with Microsoft Office and other business applications.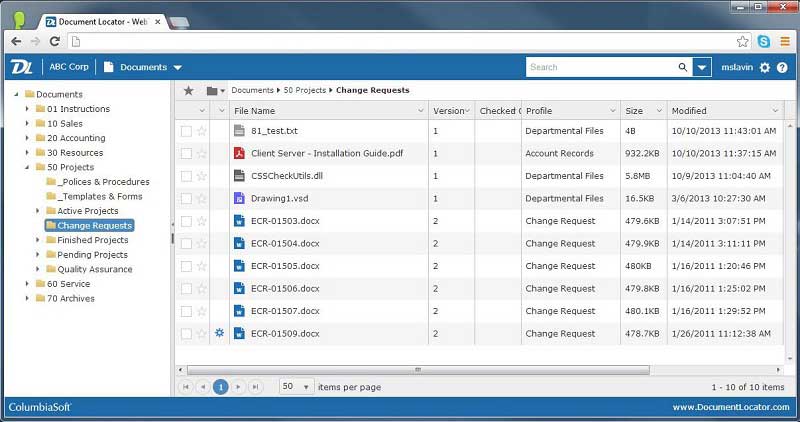 Email management, document workflow, version control and paperless scanning are built in. The enterprise system also converts scanned paper to searchable digital files. It also features electronic forms that are used to transform processing with routing, digital capture and approval. Security based on the Microsoft NT security model encrypts information and detailed audit logging captures a record of every action that takes place.
Users have access to online training media, a customer portal, training classes, and custom-tailored professional services. Document Locator can be deployed on personal machine using Microsoft SQL and Windows Server, or it can be run on a cloud-based platform. You can subscribe to the system or it can be purchased in perpetual licenses.
The only noticeable flaw is its messy interface as functionality can be defined specific to the users.