We live in the world of modern business. And the world is overloaded with images, text files, charts, audio documents, video documents and much more. Simply put, everything is becoming digital and electronic. Long gone are the days when we had a storage unit where we stored all text documents. Managing a business is much easier and simpler these days once you understand the technology we have. And in that technology, an electronic document management solution is one of the first things you need. A reliable and versatile software will make your business life easier. It is definitely a must-have for any business, small, medium or large. What you need to know about electronic document management? We will show you some tips how to utilize your software best, and then give you some ideas for the right software.
Top 5 Useful Tips for Electronic Document Management
Managing your electronic files, data and documents can be easy. But that is once you get the hand of your electronic file management. That being said, here are some tips that will help you.
Make your documents searchable, no matter if you are just storing electronic data, or creating digital documents. You need to provide as much searchable information as possible. Tag documents with complete information like name, description, meta data, and keywords
Consider your workflow. Automate scanning, conversion, editing, organization, submission and review as much as possible. Choose a system that will adjust easily to your procedures
Indexing is another key factor. We talked about searching files, but indexing is just as important. Some companies have more than one department. And every department has their own various documents. Some of the documents in the legal department might be useful for the HR department as well. But you have to index properly, as in provide access to the people that need it to different departments
Automate cloud storage. The web is now a cloud computing platform, and your goal is to make everything accessible online. You can do that by automating mobile apps to upload files directly to the cloud. You can also create a "recycle bin" folder to download documents you won't need permanently
Separate files by format. Some people separate files by name, but you can also separate them by format. Who wants to look between excel files, word files, and PDF files? Separating files by format speeds up your search process.
---
Top 3 Electronic Document Management Software
PDFelement for business is the perfect PDF solution to make your work more simple and safe. Here is a tutorial about how to use this Adobe Acrobat Reader DC for Enterprise alternative.
A great solution for businesses, PDFelement for Business is the best electronic document management software that can help you with all PDF-related files. The robust list of features makes it an excellent tool to have in your business arsenal. Here are some of the features: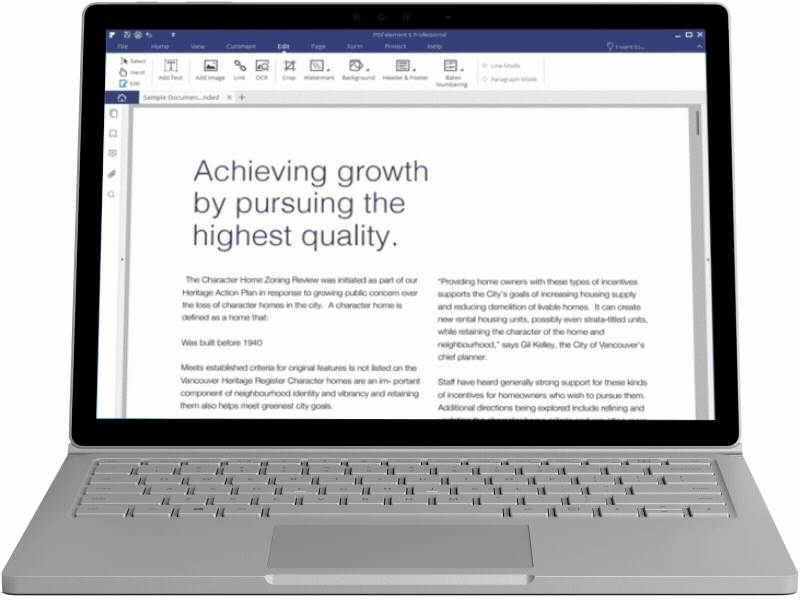 Edit PDF freely, like on a word processor
Easily convert any document into a searchable PDF document
Merge several different documents into one PDF document
Markup PDF with annotations, highlights, and much more
Search document with top notch OCR technology that will search not only the title, but the body and tags of files
Protect your sensitive files with a redaction tool for legal purposes.
---
Next item on the menu is Zoho Docs, an electronic document management solution that will bring your office offline and help you work on the go. A central document repository for all documents, Zoho allows you to easily share files and photos online. You can start using it on a trial version for up to 25 users with 5GB limit per user. And if you like it, you can sign up for the premium version. All you have to do to sign up is provide name, email, and password.
Pros:
Intuitive and user friendly interface
Hassle free and add-free Google apps integration
Excellent tools for editing documents online
Cons:
The space per user might be little for some users
Monthly per user fee adds up to the price
You need to sign up to Zoho writer for complete editor
---
This software will help any organization to gain control over its electronic document management. The focus is on content retrieval and business process automation. Using this electronic document management tool you can create, coordinate, and co-author any documents your organization has. The productivity vastly improves thanks to web interface and integration with Office and Outlook.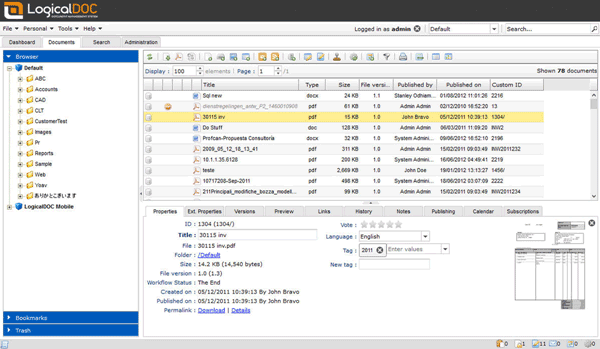 Pros:
The user friendly interface makes it easier for beginners
Great overall information management
Excellent support team
Cons:
Some users ask for client sync with a local directory in the repository
No phone support, only email customer support
Many additional purchases that pile up to the price, for example, professional installation and backup.