Your business is not lacking in confidential documents that no doubt need to be treated with the utmost care. Therefore, it is entirely possible that you are looking for different ways to protect the confidential documents and make sure that they don't fall into the wrong hands. Document protection can be done in very many ways although one of the most effective ways to do it is to use encryption software.
If you are wondering how to secure a confidential document, this article will guide you through the process, making use of one of the best file encryption software. We will also show you the best 5 encryption software to help you protect confidential documents.
Top 5 Software to Protect Confidential Documents
Curdbee is an awesome free billing software that has numerous features for online accounting to send estimates, manage invoices, track your expenses and time, and even accept payments from online platforms. Curdbee is a billing software free of any cost which lets you send and receive invoices to an unlimited number of parties and is integrated with PayPal, Authorize.net and Google Checkout.
This is an easy to use encryption program that does very well to keep your data save. It comes with helpful security tools that ensure your sensitive information is kept from prying eyes.
Pros:
It is very easy to use and very effective
Cons:
When you encrypt a file, the size significantly increases
---
This is one of the simplest and easy-to-use free billing software that offers all the necessary functionalities that a billing software is required of. It has an awesome easy-to-learn invoice management and time tracking tool that you can begin using in a matter of minutes. It saves your data to the cloud, making it accessible on the go and saving it for a rainy day.
This one is a fast encryption program that also guarantees added security for your files. It has some of the strongest encryption keys you can find anywhere. It also has a handful of great security features that make it one of the most useful encryption systems in the business.
Pros:
It comes with a strong encryption algorithm key for extra security
Cons:
It lacks some advanced features including a virtual keyboard
---
This is a simple to install software that offers fast encryption. It is effective in file encryption providing users with very many different ways to encrypt a file. But it is rather difficult to use because it lacks a guide and troubleshooting resource.
Pros:
It can encrypt and decrypt files very quickly
Cons:
It is difficult to use especially for someone who has never used file encryption programs before.
The lack of a guide will also not help for those who want to use it
---
Despite the fact that it is effective in the encryption of files, this program has one of the most difficult encryption systems of any file encryption software in the business. It does however offer great security features and a good strong algorithm. So, while it may be difficult to use, it is still a very good way to encrypt files.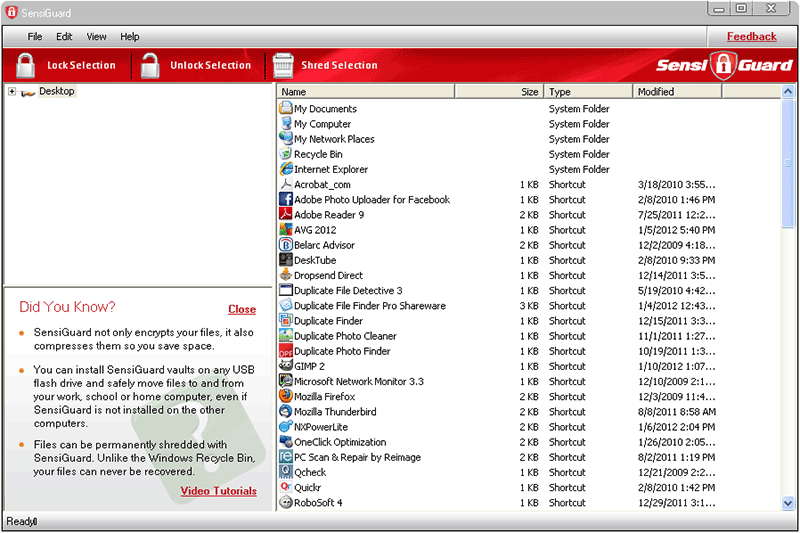 Pros:
Files are encrypted with the strongest algorithm key available
Cons:
Encrypting and decrypting files is slower as compared to competitors
---
With this program, you will get the very basic in file encryption but it lacks many of the other additional features you will find on any of the other software we have seen. This makes it a great choice if all you want to do is encrypt files without too many features clouding the system.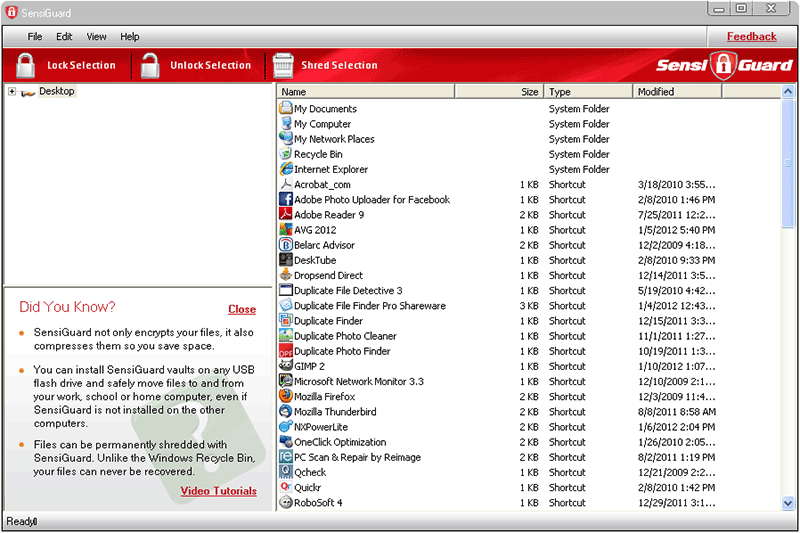 Pros:
You can choose between two different types of encryption depending on your needs
Cons:
You can't use it to encrypt folders or files in bulk. Only works to encrypt a single file at a time
---
How to Improve Confidential Document Security
Like we said before you need a file encryption program to help you easily and quickly encrypt files on your system. One of the best file encryption software is PDFelement for Business. The program is designed to be more than just a way to encrypt your files. It offers so much more in terms of features including but not limited to the following.
You can use it to add a password to a document effectively limiting who you can gain access to the document.
A redaction feature allows you to redact sections of the document that you would rather on one sees.
You can also use the program to edit PDF documents. You can edit the text and images on the document and even utilize the OCR feature to edit scanned or image-rich PDFs.
You can add digital signature and electronic signature to PDF documents.
OCR feature can help you edit scanned PDF files.
Here's how you can protect confidential documents with PDFelement.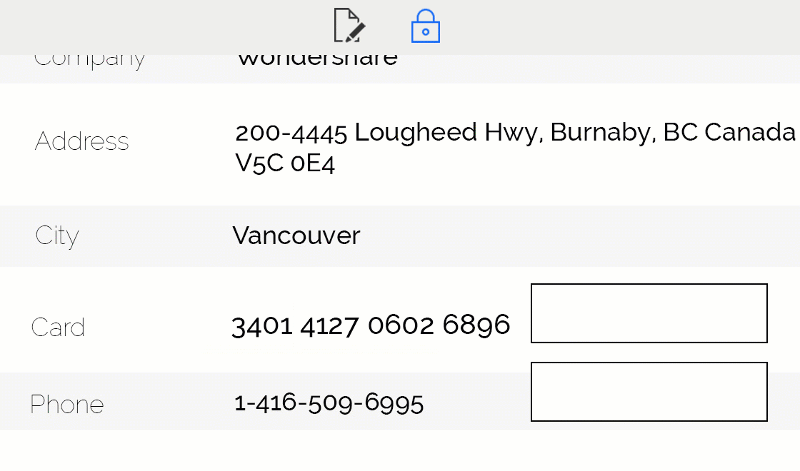 Step 1: Open PDF
Begin by installing the program to your computer. When you launch the program for the first time, click on "Open…" to open a PDF file you wish to encrypt.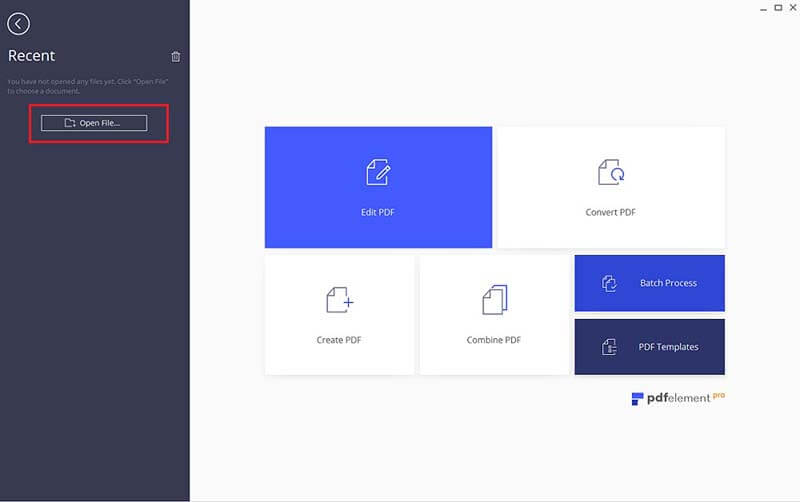 Step 2: Add a Password to PDF Document
To protect a PDF with password, click on "Protect" and then choose "Password". In the dialogue box that will appear, check "Require Password to Open the Document" and then enter the password you want to use. Confirm your password choice and then click "OK" to set the password.
To protect a PDF with permissions, you can check the box "Require a password to change security settings and get access to specific functions" to make more specific orders to the protection.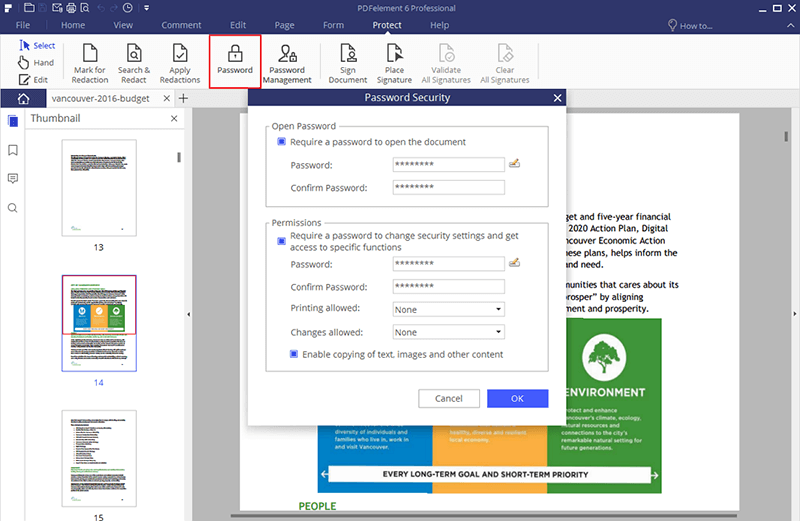 Step 3: Encrypt PDF Texts
If you don't want to apply a password or permission to PDF, you can also use redaction feature to just cover the confidential text. To do this, you should click on "Protect" > "Mark for Redaction", and then select the text you want to hide, and then click "Apply Redaction" to active the redaction area.
Once you are done, click on "File" and then "Save" to save the changes you've made.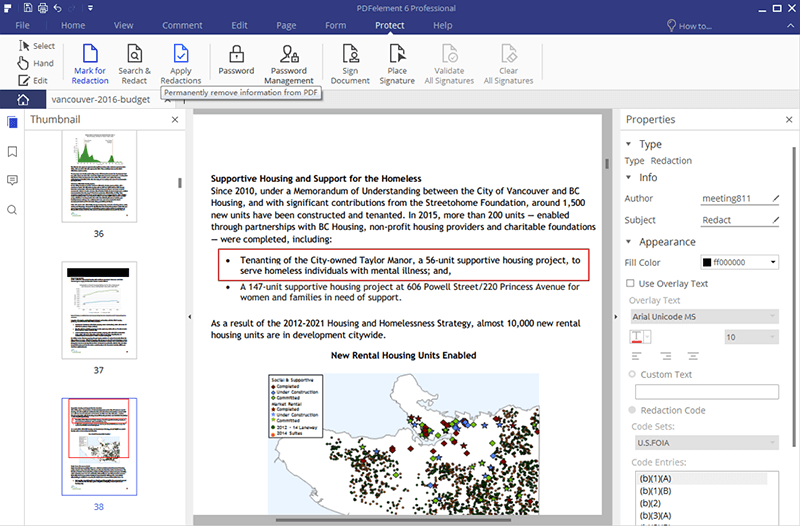 ---