We live in an era where business security is of top priority. We see that even the most secure channels can be hacked. Wikileaks changed completely the way we approach things. Our emails are not safe. And when you are running a business, no matter if it is small, medium, or big, there are a number of risks you should consider. But security should never be one of them. One of the first goals when starting a business is to check for business security systems that will make sure you sleep well at night.
So, in order to sleep tight at night, and focus your attention to your business, your best option is to leave security to professionals. And when we talk about business security, we need to mention few things. The standard risks you need to take is video cameras, digital video recorders, and burglar alarms. But often, an underrated part of business security is your online security.
Best Business Security Solutions
Let's start with a video monitor. You need several video surveillance cameras and remote video services that will protect your business from shoplifting, vandalism, and other crimes. In simple terms, a video monitor is a "device that lets us observe, study, and check video". Sometimes called a broadcast monitor, the device is actually a television set. Companies install video monitors in their facilities to monitor activity among employees, but also if there is a threat they need to address.
---
2. Access Control Systems
Access control systems, a kind of security systems for business, are designed in a way they protect the main entrance, and other sensitive areas. In the same time, they eliminate the cost of lock changes and re-keying. When employees leave the facility, your business operations will be safe and secure. Security access falls into the category of physical security of information. In simple terms, security access is "selective restriction of access to a place". All companies have levels of security and access, and not all employees have access to all of them.
---
3. Emergency Alarm
The emergency alarm is the next item on the list. Designed to detect intrusion and unauthorized entry, your security alarm can be linked with a security company that will answer to the call immediately. This one also falls into the category of physical security. Long gone are the days when security alarms were used in military properties. Nowadays, security alarms have made their way to residential and commercial properties for burglary protection.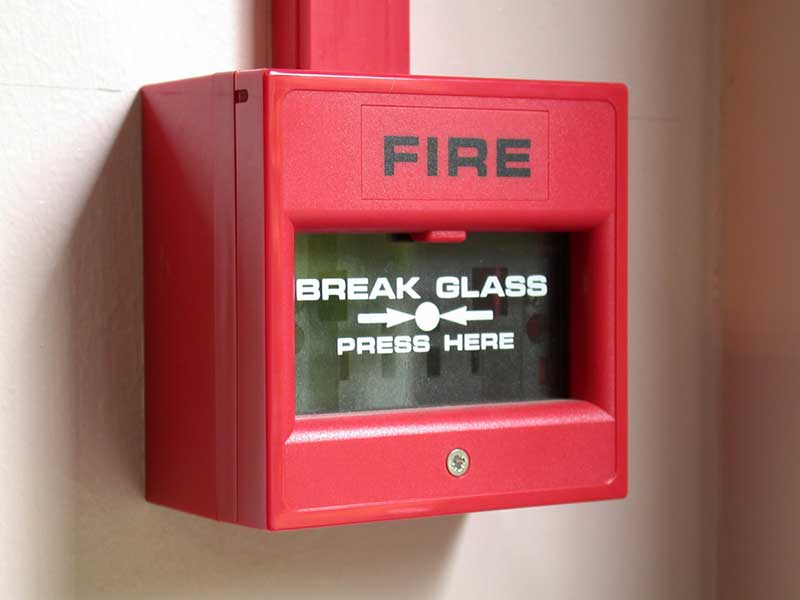 ---
But back to the digital world and protection, you must invest in good anti-virus software. We recommend AVG Business internet Security, software that you will help you surf the internet without fear. You also get malware protection for employees, privacy protection, data protection, and remote management system. The software updates automatically, but if you need anything, you can call their free phone support at any time.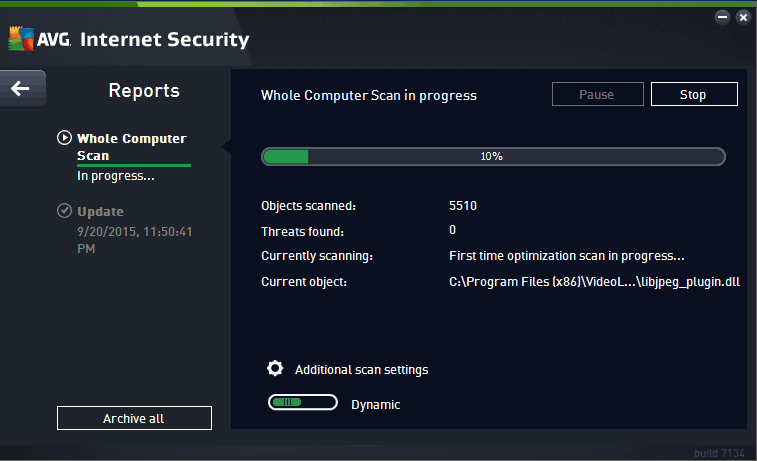 ---
ADT business security is one of small business security systems that specialize in alarms and physical security. The company has long tradition in the world of security. Some 130 years ago, ADT business security hired guards to transfer money for businesses and banks. Nowadays, they have alarms that protect more than 7 million active customers. That is a large number of companies, and ADT has reputation that is worthy of its name.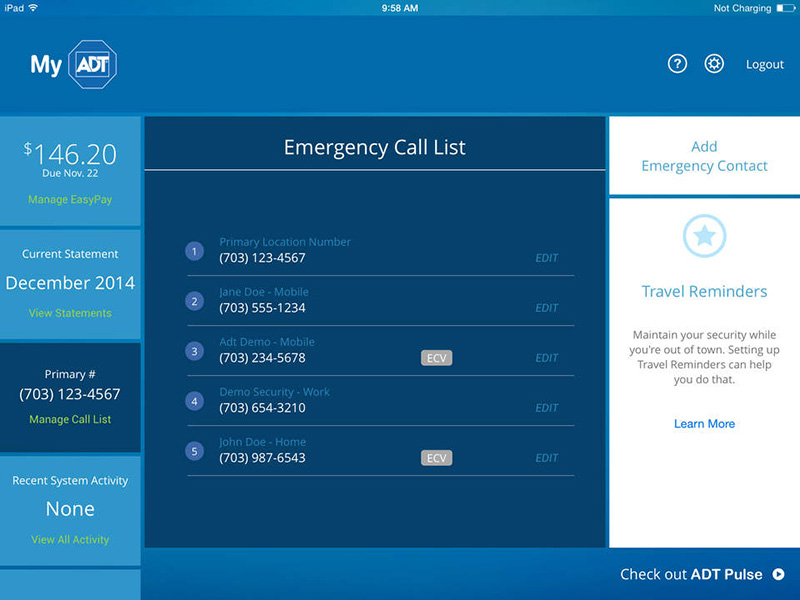 Some of the strengths include professional installation, reliable monitoring from more than 150 locations, smartphone control application, and great prices. The downside of ADT is that you have to ask for an upgrade. You won't get one automatically after 3 years unless you ask. And the company charges installation fee.
---
Tool to Guarantee Business Security in Documents
Now, speaking of online business security, it is imperative that your files and documents are protected at all times. In the era of paperless office, your documents are stored in the cloud as PDF data. Aside from software that will help you turn your hard-copy files into PDF files, you also need software that will protect those files. One of the most affordable options is PDFelement for Business. This intuitive solution is just the right for your business.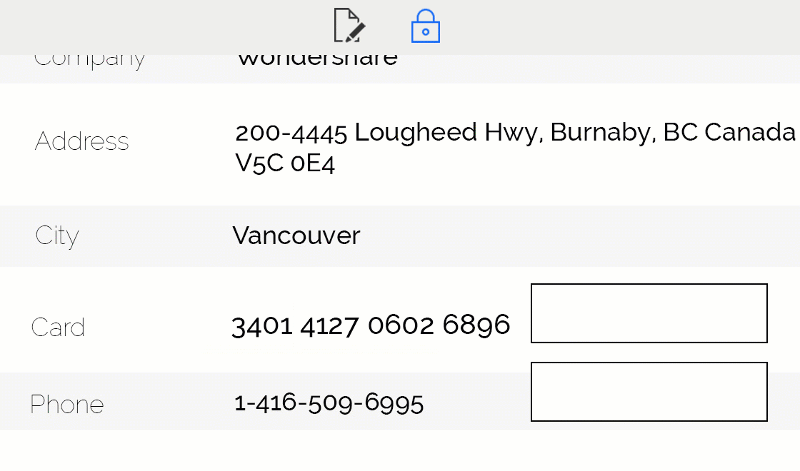 Redaction is a process where you can edit text for publication, but with censored part of the document for legal or security purposes. Editing is essential, but PDFelement also allows you to protect your files with password encryption. You can also protect them when sending to clients for signing. Anytime you send a document for signing, you can protect it with a unique code that only you and your client know.
When adding a password, you limit access and restrict certain features. Some of the features you can limit include printing, editing, and copying of your file. There are two types of passwords: open and permission. If you set up "open password", any client that tries to open the file will have to type in the password. Restriction password makes it impossible for clients to change anything in the document without the restriction password. Important note, there is no recovery if you forget the password.
Way 1: How to Password Protected PDF
To protect your files, open your PDF document, click on "Protect" > "Password", and wait for the box to open. You'll open password settings, where you need to click on "Require a password to open the document". Type in the password, then type it again to confirm, and that is that.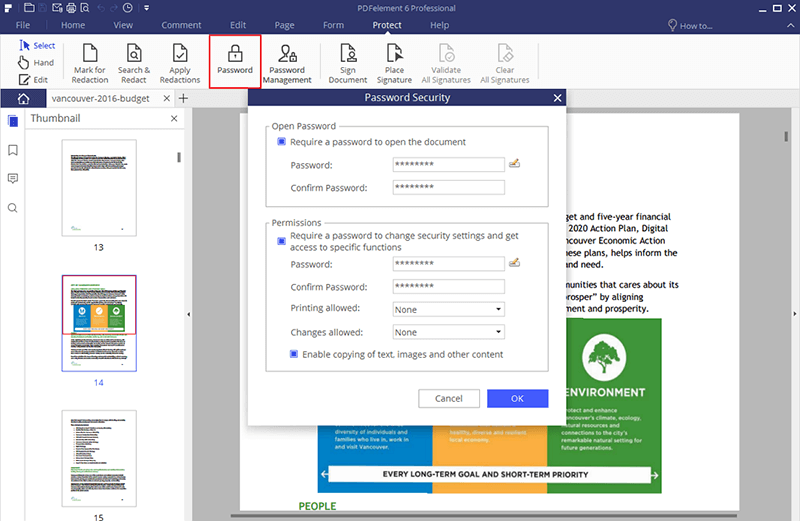 Way 2: How to Redact PDF Confidential Information
Another way to protect your business is by redacting texts or images in PDF. This tool allows you to remove any element, be it text or an image from your document.
To do that, go to "Protect" > "Mark for Redaction". Once you click the button, a pointer will appear. Drag the point to select anything you want to redact. After you've marked, click on "Apply Redaction". A dialog box will appear to ask you whether you approve the operation. Click "OK", and the item swill be redacted.