Business protection is a complicated duty that needs 100 % care and attention. You might wonder how to protect your business? To protect your business, you should use only those software or tools that are fast and free of malware. Using tools that come from trustable source can also help to protect the business. Business data protection is the biggest step towards protecting your business. A good tool that lets you password protect, electronically sign, redact and share the protected document works best to check data protection for small business.
Best Tool for Business Protection
PDFelement for Business is our favorite tool when it comes to serious business. It is a trustable option that lets you create your documents in PDF format in an efficient way. The best part is that it offers a lot of features that concentrates solely on protecting whatever data you include in those essential documents.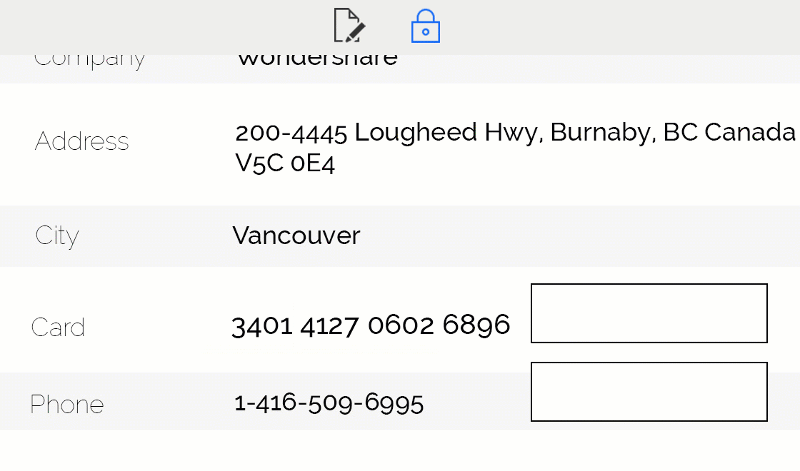 It is used by many reputable Fortune 500 companies and even government entities. Everybody knows how careful they are with the handling of their data. It is your one-stop solution to create and share an important document in the safest and securest way possible.
The benefit is that it is full of features and very cost efficient when compared to other options. Bringing the change of PDFelement can result in a transitional effect to your business by saving your time, efforts and cost. No matter what your business department, it has been created to meet the needs of all. Some features are:
You can create PDF files from the start
Mark up and Annotation tools for adding important side info
Sports 256 bit AES encryption to prevent changes to your file
Password protect your files so to prevent unauthorized access
Redaction features let your black out the sensitive data to prevent misuse
Sign your PDF document securely and electronically
Upload your file to cloud solutions to share among departments
How to Protect Your Business Data from Stealing
1) ALWAYS APPLY PASSWORD TO PDF FILES
After successful download and installation of PDFelement, you can use this tool to apply a password to your important PDF documents. First, check for permissions on the document. Click on "File" tab on the main menu and select "Info". If there are no restrictions, you can set some too.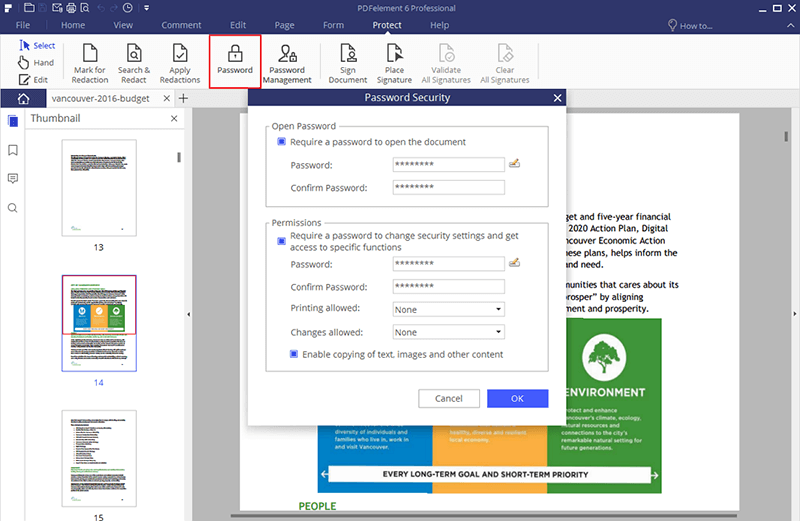 To set a password on your PDF file, click on "Protect" tab and select "Password" button. Now you can set "Open Password" or "Permissions". A new dialogue box will appear, select "Require a password to open the document" to make sure the PDF asks for the password every time it is opened.
Now type a password in "Password" field and "Confirm Password" by typing it again. Remember, if you forget it, there is no way to open the PDF. Please keep a backup of your passwords, just in case.
---
2) REDACT CONFIDENTIAL INFORMATION
The Redaction feature can be used to blackout important information from the PDF file. Click on "Protect" tab and then click on "Mark for Redaction". A plus shaped pointer will appear as soon as you click it. Just drag the pointer over the line, the object or the block of text that you want to cover. After selecting the text or object to be redacted, simply click on "Apply Redaction" button located in the redaction group. A dialogue box will appear to approve redaction. Click on "Okay".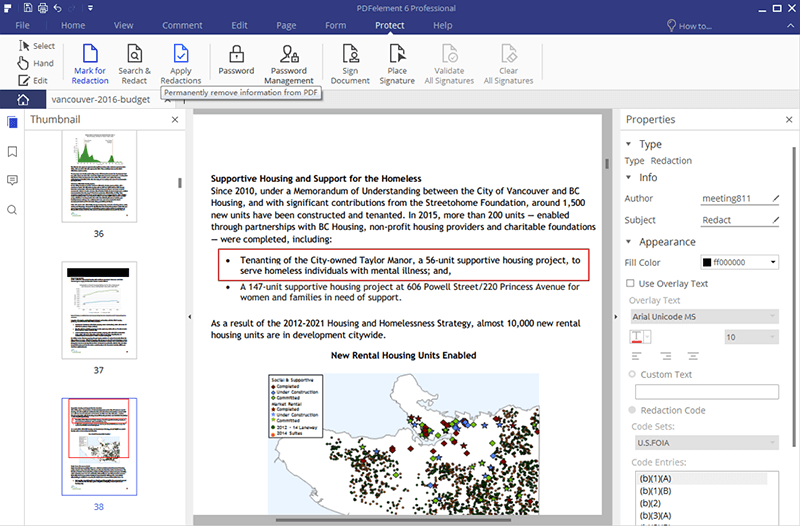 ---
3) SIGN PDF WITH DIGITAL SIGNATURE
Your digital signature is your digital ID. You can be tracked using your signature. Sometimes documents need to be digitally signed by you and other involved parties. With PDFelement, it's easy as pie to insert digital signature. To do that, click on "Protect" tab and then click on "Sign Document". Then choose your Digital ID to sign. If you don't have one, you can create it. Just click the "New ID" button and then click "New PKCS#12 digital ID file". It will be stored on "Windows Certificate Store" and you can easily retrieve your ID via other software as well.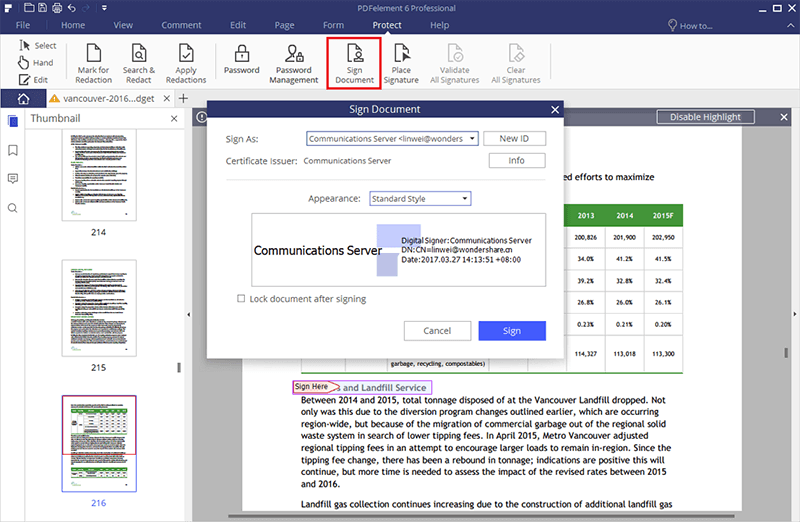 ---
4) SHARE PASSWORD PROTECTED FILE ONLY WITH NECESSARY PERSONS
You can share your encryption, password, and redaction protected files with other parties involved via a variety of mediums. Straight from the interface of PDFelement, you can share it via email attachment by clicking "File" then "Share" and finally selecting "Email". Alternatively, you can share via Evernote, Google Drive, and Dropbox by following the same step and selecting the applicable option at last.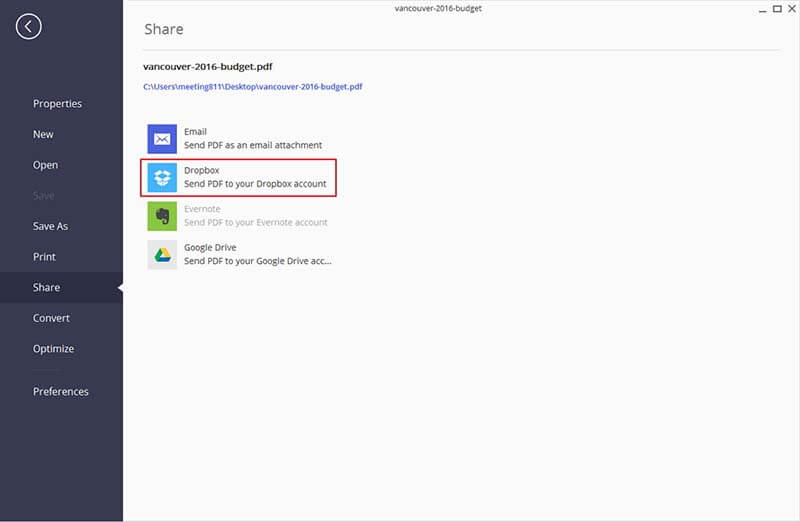 You can also use the "Right click button" to share files. For example, when you open a PDF file, you can simply right-click on the page and find the share option. After that, you can select the medium via which you want to share! And now you've completed the process of business protection through PDFelement.