Maintaining business confidentiality is a very tough task that needs careful attention. One mistake and the confidential business information can be at risk. A business confidentiality agreement is a cruciaal agreement that contains highly sensitive information of importance, which is very important to maintain confidentiality in business.
Thus, it is critical to use a tool that can create necessary documents like business deeds, contracts, agreements and provide proper security to it, so as to tamper proof it. Read on to find the best way to maintain business confidentiality.
Why We Need To Protect Business Confidentiality
A level of confidentiality is required to be maintained in business to protect its secret information. There are many reasons why we need to protect it:
Your competitors can steal your confidential data and sell it to third parties
Anybody can have access to sensitive information like the exact amount of money involved
Even worse, your credentials can be hacked and business can lose all the money and data
Hackers can sit far away from you, untraceable and hack your entire security system if they possess documents having necessary details
Even the law only provides any support only after finding out that you indeed tried your best to safeguard your information
All your important data can be copied on a separate server without your knowledge!
The risks are unlimited! Thus it's critical to use PDFelement to put your details to safety!
---
The Tool to Maintain Confidential Business Information
Used by countless fortune 500 companies and many government entities, the best software to protect the confidentiality of the business documents is PDFelement for Business. This intuitive tool is fully laden with security and privacy functionalities that are necessary to provide complete safety to important business documents.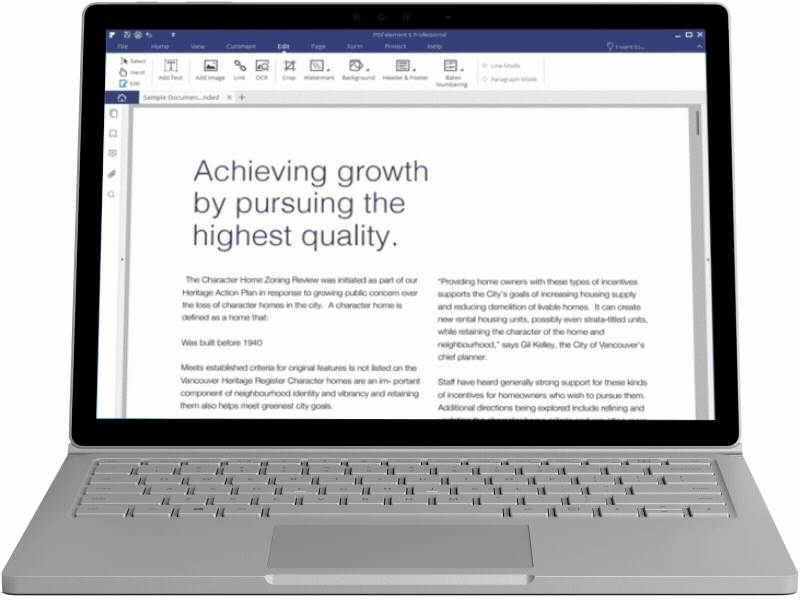 We have tried PDFelement vigorously and passed it with absolutely no flaws. It is one of the most affordable options out there to protect your sensitive business information that lies in numerous documents that every business has to deal with. Using PDFelement, you can:
Provide 256 bit AES encryption to your document that makes it tamper proof
Create your own legal digital signature and apply it to the documents
Protect your file with an additional password to be sure
Manage document permissions so that it's only opened by authorized personnel
Blur sensitive information from the document using the redact feature
Use it through all of your departments
Sharing the documents securely and easily among all the departments
Making the entire document searchable and editable using the OCR feature
And a lot of other options to completely manage your business documents in a secure way.
---
How to Protect Business Confidentiality
Step 1: Add Password to PDF
Adding a password to PDF file can add an extra layer of security to your document. Launch PDFelement from your computer and open the file you want to put a password on. Now click on "Protect" tab. When you get the protect options, click on "Password". Now select "Require a password to open document" to make sure that a password is asked every time the document is opened. Now, enter the password in the "Password" field. You will need to confirm the password by entering it one more time in "Confirm Password" field.
On Mac, look at the right side of the interface for "Protection" option. Click on it to unveil various protection options. Now, click on "Encrypt with password" to see security settings popup. Select "Require a password to open document", Enter the password and confirm it.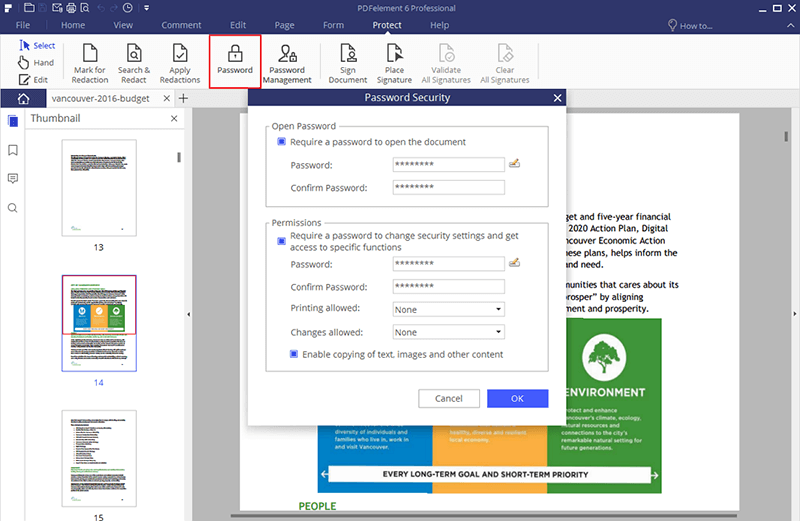 Step 2: Redact Business Confidential Information
Redaction feature can be used to black out certain sensitive information that is just for the eyes of authorized personnel. For using redact feature in PDFelement, you will need to open the document in it. Then, click on "Protect" tab and select the "Mark for Redaction" option. You will see a (+) icon appearing on the screen. Drag that and select the area you want to redact on the PDF file and click "Apply Redactions". You will receive a popup, on which select "Yes".
On Mac, click "Mark for Redaction" and when the (+) icon appears, follow the same steps as in windows.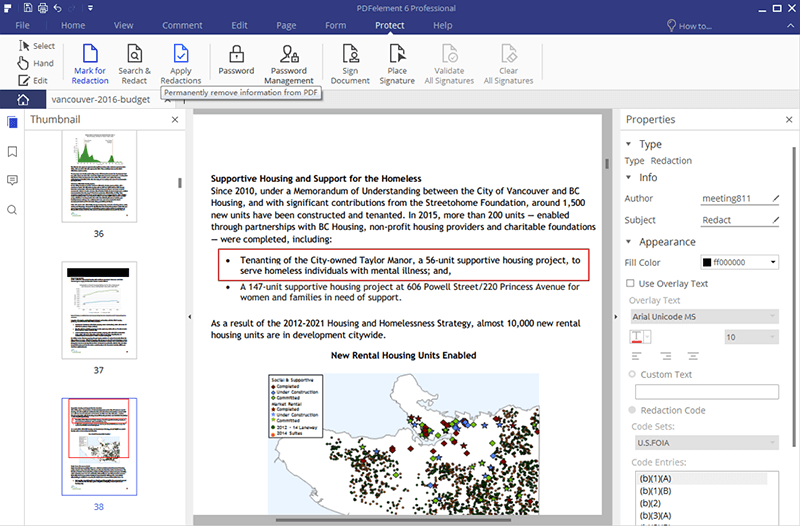 Step 3: Add Digital Signature to PDF
Digital signature or digital id contains all the necessary information unique to the signer. To sign a PDF with a digital signature, you must have one. If you don't have it, you can obtain it from Certificate Authority (CA), or you can also create your unique, password protected digital ID using PDFelement!
To create a digital ID, click on "New ID" button and follow instructions. Your PKCS#12 ID will be created and stored on Windows certificate store for your use.
Now, open the PDF file and click on "Protect" tab. Then click "Sign Document" then choose your ID to sign the document.